Cedar Gap Hollow is an excellent area about 35 miles east of Springfield, Missouri. These rare tracts are not only excellent for hunting but they offer amazing residential and recreational potential as well.
Cedar Gap Hollow East is a special section of Cedar Gap Hollow which is comprised of about 15 private tracts. They are located close to the southern end of Cedar Gap Hollow which gives them better access than most of the other tracts in the area. The tracts at Cedar Gap East are also in an area WELL KNOWN for an active deer population. There is a freshwater spring which crosses over several of the tracts and is a popular "hotspot" for the deer.
The map below shows the available tracts at Cedar Gap East. Below the map you will find a list of the available tracts and you may click on any of the links within the list, to see a specific tract. Any available tract can be purchased INSTANTLY with no down payment (just pay your first monthly payment and begin to enjoy your property immediately).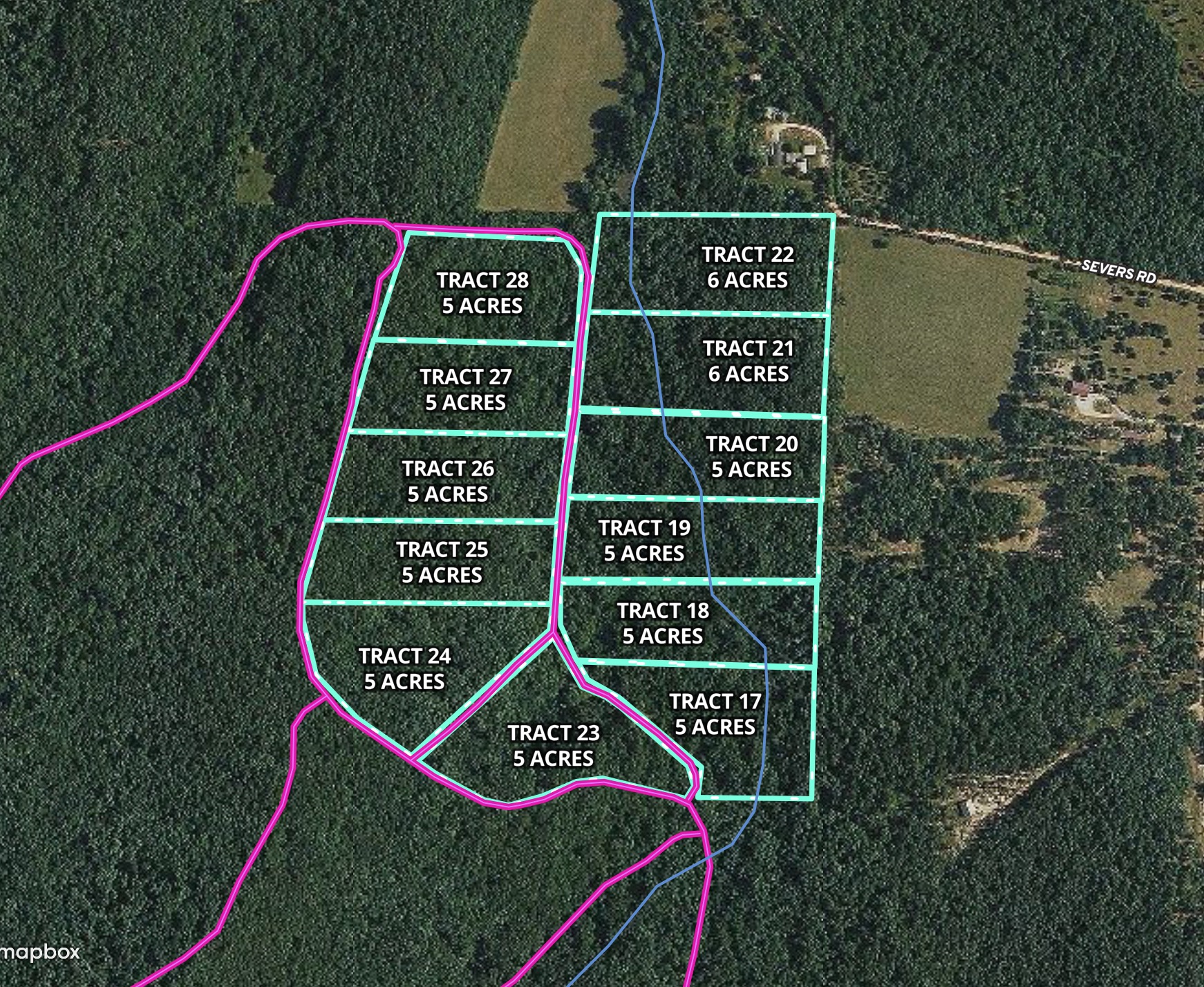 Tract 17 – 5 Acres – $26,500
Tract 18 – 5 Acres – $26,500 – Down Payment of $500
Tract 19 – 5 Acres – $26,500
Cedar Gap Hollow is in an amazing location within the Missouri Ozarks. Western Wright County, Missouri is well-known for excellent hunting and recreational opportunities as well as a great environment for building a home/cabin or just for camping and enjoying your weekends. Not only is Cedar Gap Hollow very private, it is also within about 35 miles of Springfield which is the largest city in southern Missouri!
The map below shows the location of Cedar Gap Hollow which is about 35 miles east of Springfield, Missouri.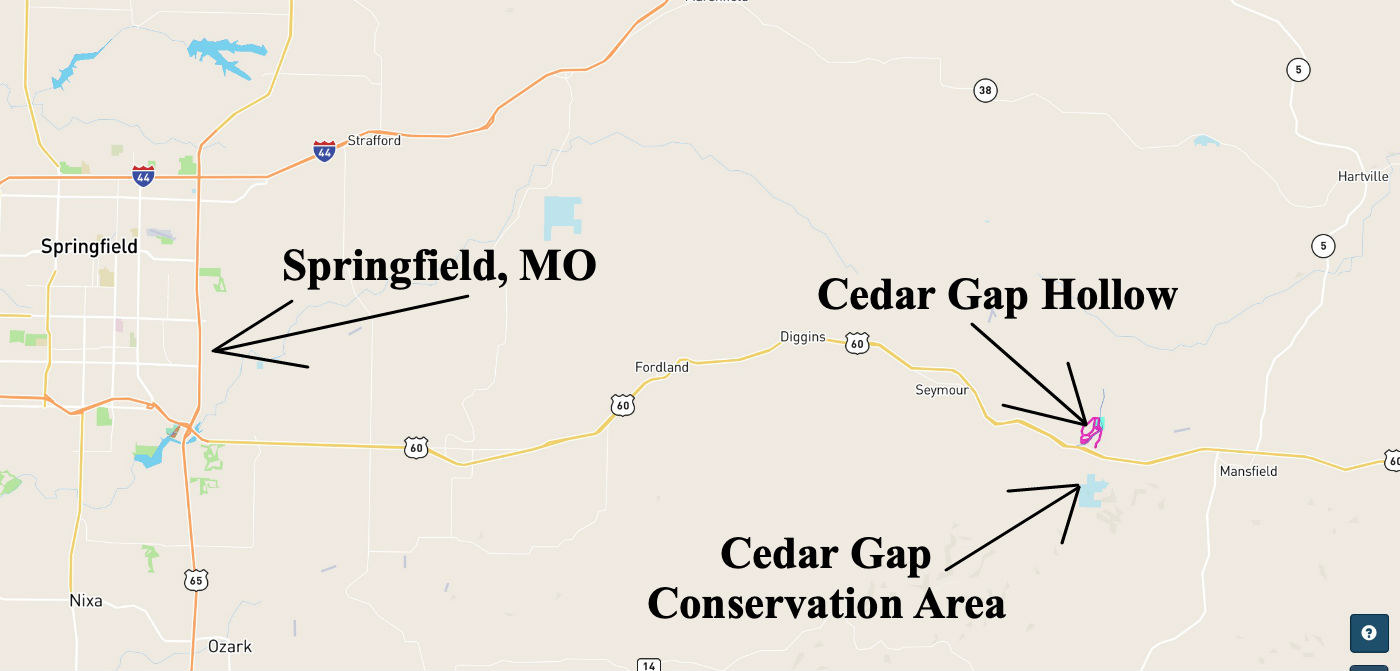 Click on a link for any available tract in the list toward the top of this page to see specific information on available tracts!
Test Links Below:
Cedar Gap Hollow was designed for those who enjoy nature and value the natural beauty which can only be found here in the Ozarks.
What can you do with your new property at Fiery Fork Ridge?
Hunt on your property (and in the 1,600 acre Conservation Area)
Build you own cabin or home on a concrete foundation
Fish in the Little Niangua river
Camp for up to 45 days in a year
Use your camper trailer while on the property (up to 45 days a year)
Build a base camp for trips into the Fiery Fork Conservation Area
Live year around in your cabin or home (600 square feet minimum)
Make it your vacation destination
Bring family and friends to share the experiences
Bring your four wheelers
Bring your horses
What can't you do on your new property at Fiery Fork Ridge?
No mobile homes
No commercial animals (horses are allowed)
No cutting or selling of timber until your property has been paid for in full.
---
Frequently Asked Questions
Where is the property located?

Fiery Fork Ridge is located in Camden County, Missouri. It is approximately 15 miles west of the county seat of Camdenton.

What is the terrain on the property? Flat? Steep?

The Ozarks are known for varying terrain. The east side of the development is basically flat, as it is situated along a ridge. In general, the tracts slope down as you move to the west.

What does each property look like?

Each tract is different. Please refer to the pictures and video of any tract to see exactly how it looks.

What utilities are available?

Easements are in place for power and phone (although they are not currently within the development). As this property is outside of any city limits there are no water or sewer lines. Water would be by well or cistern and sewage disposal would be by septic tank, lagoon or outhouse.

What do buyers generally plan to do with their property?

Most buyers will use their property as a vacation or recreation destination and may plan to build at some point in the future. Some buyers never plan to build and only intend to use their property for camping, hunting and recreation.

Do I have to drill a well?

No, you are not required to drill a well. If you require a permanent water source you may use a cistern (storage tank) or dig your own well. Drilled wells are of course permitted but most buyers find they aren't necessary until they decide to build a home or large cabin.

What are the septic restrictions?

You are permitted to install your own septic. Lagoons and outhouses are also permitted on parcels larger than 3 acres as long as no runoff leaves your property.

Is there a Property Owners Association?

Fiery Fork Ridge is currently managed by the developer. After a majority of the parcels are sold control may be turned over to the Fiery Fork Ridge Property Owners Association. A monthly fees of $15 cover care and maintenance of the roads, trails, lake and common areas within the development. This fee will not begin until 2019 (possibly 2020).
Distances from Cities and Towns
5 Miles to Climax Springs, MO
15 Miles to Camdenton, MO
55 Miles to Jefferson City, MO
65 Miles to Springfield, MO
105 Miles to Branson, MO
105 Miles to Kansas City, MO
140 Miles to St. Louis, MO
---
As you know, it is VERY hard to find acreage bordering public land (and it's getting harder all of the time). Add to that the access to the Little Niangua River and these tracts will be something you will be proud to enjoy with your family and friends. High quality acreage has proven time and again to be a solid investment.